"It's about coming to terms with events of the past in a manner that overcomes conflict and establishes a respectful and healthy relationship among people, going forward."
Truth and Reconciliation Commission of Canada. Honouring the Truth, Reconciling for the Future Summary of the Final Report of the Truth and Reconciliation Commission of Canada. 2015. p. 6.
I have had the honour of working with many Indigenous Elders, Knowledge Keepers, community members, organizations, and groups and have had many teachers. From partnering with the Michif Cultural Institute (now Michif Cultural Connections) and the development of award-winning Aboriginal programming at the Musée Héritage Museum, to overseeing the operations of Head-Smashed-In Buffalo Jump in my role at Alberta Culture and Tourism, I have been actively involved in reconciliation work throughout my career.
In 2017 I was engaged as the Facilitator for the City of Calgary's Moh'kinsstis Public Art Guiding Circle [Guiding Circle], which was established to support the City's commitment to truth and reconciliation. The Guiding Circle is comprised of Indigenous artists, Elders, Knowledge Keepers, and community members who support the City of Calgary's Public Art Program. The Guiding Circle has had a direct impact on a number of projects within the City and the way in which Public Art Calls to Artists are developed and artists selected.
Paulette Fox (Harmony Walkers Inc.), a member of the Kainai Nation, and I began working together in 2019 to support the Guiding Circle and to lead the Benefits-Driven Procurement, Public Art, and Indigenous Peoples project. Based in Shared Values, the project resulted in a number of measurable outcomes that are in the process of being implemented in Supply Management and Public Art.
Paulette Fox is a doctoral candidate at the University of Guelph; her research focuses on the Iinnii Initiative to support development of Indigenous-led conservation models rooted in Biocultural Diversity. Paulette's experience crosses a range of environmental aspects and working with diverse teams to deliver on results related to Indigenous inclusion, participation, engagement, and consultation. She is from the Blood Tribe in southern Alberta, part of Treaty 7 and the Blackfoot Confederacy.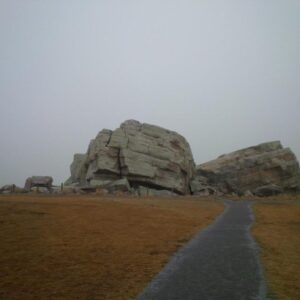 Truth and Reconciliation Indigenous Learning Sessions
Together, we offer Truth and Reconciliation Indigenous Learning Sessions for community organizations to provide an introduction to Treaty 7, land-based learning, and to consider reconciliation as a true action. The Session begins with the languages of Treaty 7, acknowledging the land, and exploring maps of Treaty 7. The concept of Ethical Space is introduced, and Truth and Reconciliation Commission of Canada's (TRC) Calls to Action that specifically relate to our client's work are presented and discussed.
Connect with us if you would like to book a Session.